Home > PuttyTabs

Love PuTTY? Work a lot of time with it? Going nuts while spending ages searching for the right window? Here's a free solution for you!
This is what the PuttyTabs does:
It reads the Registry information of PuTTY. Open a new terminal window with a click.
It displays Tabs for each opened window. Bring the desired window to front with a click.
If a PuTTY window is on top, it highlights the corresponding tab.
It consumes little space on the desktop, only the tabs and a small dropdown button are visible.
This is what is looks like: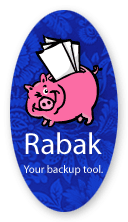 Enjoy it! Use it! Modify it! (And if you like it, tell me!)
Paul Bukhovko made a Belorussian translation of this page. I don't understand a word of it, but I'm sure this will be useful to many people. Thanks, Paul!
If you like this, you may also like my program Rabak.

Thanks to Simon Tatham for giving PuTTY to the world!

Old Versions: